My thoughts on Hilton Head Golf, South Carolina.  A Lot of good old Low Country Southern Hospitality.
I think Hilton Head is one of the best kept secrets on the East Coast.  You never hear much about it. At least I don't. Or maybe I'm just not looking and listening in all the right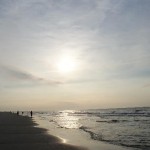 places.  I think it has some awesome golf…I've played quite a few of their courses.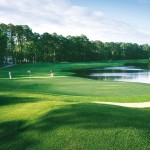 They have twenty or so all with in a 15 -20 minute drive of one another. Couple this with some really nice restaurants, beautiful white silk sandy beaches and reasonably competitive prices that would
accommodate anyone from the most sophisticated to the moderate thinking golfers. And not too difficult to get to.
This is Blog #2 on my destination reviews…a series that I will do on various destinations from my golf travel experiences…from your personal Golf Concierge, so to speak.
A quote for the day…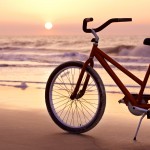 "Happiness is not so much in having…We make a living by what we get, but we make a life by what we give." N. MacEwan
So I share my thoughts about Hilton Head with you…Here is my overview, a compilation of info from my travels, various sources and views from fellow travelers in a nutshell to give you the most current info. Well… maybe it's in a few nut shells.
Hilton Head is both laid back and perceived as an expensive and more family oriented destination than most.  Well, it is most definitely easy going and it makes for a good family outing, but it's a terrific group destination as well.  Everything is quite close and easily accessible. And it really is not that expensive…except in the middle of high season when everyone wants to golf.  Then, this is not big news.  Just plan early. It is competitively priced.
For the younger among us…there is, I am told, an emerging night life. I cannot admit to knowing much about this in case my wife reads this, so I must rely on outside info…The BARmuda Triangle to name one area…It hops with nightlife, I'm told by reputable sources.
And…oh yes, they have beautiful beaches.
Here is what is included in this Blog on  Hilton Head:
Cost thoughts, Weather Review, Location and getting there, My choice for a resort/hotel…I wanted a nice 4-star beach front visit,  My 7-day itinerary along with courses I would play while staying there, and where I would dine, and oh yes, night life if I was…well…available. Then a better review of the hotel and courses I would stay and play.  And last but not least my top 10 ten or so list of what not to miss while visiting besides the golf…Like I said there is life after golf.
Some general thoughts about travel to Hilton Head:
Cost:
We golfers, according to the National Golf Foundation surveys, consider cost to be one of the leading factors for choosing a golf destination. Hilton Head, I am happy to report, has a price point for just about every budget level…deluxe to moderate for both accommodation and courses. Rates are competitive with any major premium golf destination.
Yes, and again no big news, it is expensive in high season…but this is no different than most premium golf destinations.  You can choose to go in the off or shoulder season periods and find some pretty attractive deals. Shop around and compare, but compare apples to apples – It's truly not more expensive.
Best time to Go:
The fall and spring to me are the most delightful seasons to take to the Hilton Head tees.
Best value:
Winter and summer months. Take a look at the inclusive resort packages during these times…They are worth investigating.
Weather:
Hilton Head is truly a year-round golf destination. And that aint no fish story says Brian Vaughn from "Off the Hook Charters". Here is a season by season review followed by some average temps and weather information provided by the National Weather Institute.
Winter Months: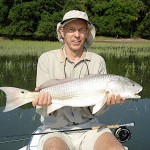 December through February, the climate is generally fairly mild. January is usually the coldest month of the year with daytime temperatures around 55° to 60°F, dropping to around 40°F during the evenings. January can produce some nice beach days for us northerner Snow Birds. February, the temps starts to move up in to the 60° to 70°F range. Now that's really getting to be some beach weather in the middle of winter.  Great Fly fishing all winter long.
Spring Months: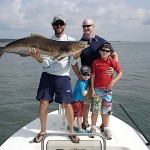 March through May is spring in this low-country Island. Flowers start to bloom and explode with rich and vibrant colors.  The days warm in March to a comfortable 65°F to 67°F range. The night time lows dip to an average 45° F range. Then in April the temps jump into the 75° range and in May the temps begin to jump up reaching into the 80°F range.  This, to me, is great golf weather and Big Cobia run May-June.
Summer Months: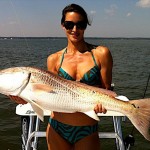 June through August…These months are generally hot, somewhat humid and sunny.  They are the hottest months of the year and reach into the 80° to 90° F range. But please keep in mind that Hilton Head is an Island in the Atlantic Ocean and the ocean breezes keep even the hottest days very golf-able. These are the best months for great golf rates. And Summertime is Tarpon time. This is one beautiful…fish.
Fall Months: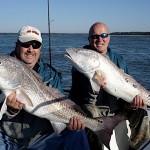 September through November…I think this is one of the best seasons of year to go. The temps become more comfortable than the summer highs and the humidity begins to moderate, making it a perfect time of year for golf. In September the high is in the mid to low 80°F range and the average low is high 60°F range. October, the average high is in the mid 70°F range and the average low is 57 degrees. When most of the leaves are starting to turn colors in other parts of the country, the Low country flowers continue to bloom and the plants are as green as ever.  And big Bull Red that run very good in the fall..September and October are peak months.
Seasonal photos C/O OFF THE HOOK CHARTERS.
Average high and low temps:
Jan: 55°F-41°F     Feb: 59°F-43°F     Mar: 66°F-50°F
Apr: 73°F-57°F    May: 79°F-66°F     Jun: 86°F-72°F
Jul:   88°F-75°F   Aug: 88°F-75°F     Sep: 82°F-72°F
Oct: 75°F-61°F     Nov: 68°F-52°F     Dec: 59°F-45°F
Average Precipitation Inches:
Jan: 3.1           Feb:3.5            Mar: 4.2
Apr: 2.7          May:4.2           Jun: 5.3
July: 7.0         Aug: 6.9          Sep: 5.3
Oct: 2.8          Nov: 2.0          Dec: 2.4
How to get there:
Just a little north of Savannah, GA.  About a 45 minute drive over the bridge from  the Savannah/Hilton Head International airport. Very convenient.  Call (912) 964-0514 or visit http://www.savannahairport.com.
Night Life…Lots of it.
You have the Park Plaza and the "Bar-muda Triangle." They are within walking distance of each other. Park Plaza has a number of restaurants from Mellow Mushroom (Pizza and beer) to a Chinese place to 211 Park, Alligator Grille, and Marley's…other night spots include The Electric Piano and Stages.  Directly across the street in the "Bar-muda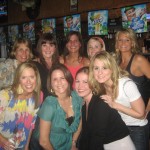 Triangle" and The Lodge (the picture to the left is some friends at The Lodge having a little fun), Reilley's, Jump and Phil's, the Hilton Head Brew Pub and One Hot Mamma's.  If you like Cigars the Barmuda Triangle is the place. They have outdoor bars and a central fireplace.  Then there is the Comedy Club if you want laughs and for the guys there is a topless club on the island: Thee Diamond Club at 1 Dunnagan's Alley.  Jazz – Yes there is…The Jazz Corner (just good old fashioned jazz), or Kingfisher is also a popular jazz stop.  Try Signals in the Crown Plaza in Shipyard plantation where you can take lessons in shag and beach boogie (You ask What's Beach Boogie?- Gotta see it to believe it).  Sports Bars…Among many others are Callahan's, Casey's, The Lodge, and The Dry Dock.
Beer tastings… Beer and Hilton Head go hand in hand. They have festivals throughout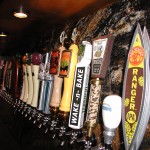 the year.  Turning the tables on wine tasting, the Hilton Head Seafood Jazz & Brew Festival on South Carolina's introduces attendees to the art of matching beer with good food. Generally held in September. Also local restaurants will showcase special seafood menus and beers…Like the Lodge Beer and the Growler Bar with 36 beers on tap (Look left) and some awesome micro brews on hand. Can not beat the burgers either.
Help in planning your trip: Email us.  We can do this quite well.  Tom@golfvacations.com
Lodging: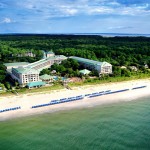 My choice for this stay will be the Westin Hilton Head Island Resort.  I wanted a 4 star quality experience, access to a beautiful semi-private beach, nice spa and a variety of top quality golf nearby that would give me a good deal .  They also have condos on site but I wanted a full service hotel for this stay. Also, the Heritage group works closely with this hotel and gives some great value golf packages. Here are the courses to select from…I have more details on them toward the end of this blog.
Oyster Reef Golf Club
Palmetto Hall Plantation Club's Robert Cupp
Palmetto Hall Plantation Club's Arthur Hills
Port Royal Golf Club's Barony
Port Royal Golf Club's Planter's Row
Port Royal Golf Club's Robber's Row
Shipyard Golf Club
Suggested Itinerary:
Day #1
Lodging: Your base for the week – the Westin Hilton Head
Course: Barony at Port Royal.  Just a short 5 minute shuttle ride away. As I said, the Living is easy.  Great day one course.
After golf suggestion: Wild Wings. Good Bar Bar for Wings. Lots of Wings.  Good Sports Bar too. (843) 785-9464. About 14 minutes from the hotel.
Dinner Suggestion: Sunset Grille…Small hidden gem, Some of the best views and food on Hilton Head, I think. Most of the dishes are local.  They buy their fish right off the boats coming into their docks. The restaurant is small and very friendly. (843) 689-6744…12 minutes from the Westin.
Day #2
Course: Planters Row  G.C. 4.5 star – About a 5 minute shuttle ride away
After Golf Suggestion: The Royal Tee Massage – This is a hot Golf Ball Massage (Really) in the Hotel Spa. It seems they lost their rocks and instead they use real hot golf balls.  Not to be missed. Not sure how they heat them up.
Dinner Suggestion: Steak Tonight – Crane's Tavern would be my choice.  They've been burning steaks for some time. This is a 4th generation restaurant. Steaks are
char grilled over open flames…Great wine list and beautiful beef (really aged). (843) 341-2333 – 10 min ride from hotel.
Day #3
Course: Robbers Row  4.5 star. About a 5 minute shuttle ride
a spectacular Pete Dye course.
After Golf Suggestions: Go visit Harbour Town. Worth the look see. Pretty nice shops too if you're looking to get something for your Sigo.  Good bars there and the Quarter Deck…for some really good drinks and burgers…Apre' Golf. A 22 min ride.
Dinner Suggestions: Variety is the spice of life…So tonight it's a little TexMex – Santa Fe Cafe. Very close to the hotel. 10 min ride (843) 785-3838.
Day #4
Course: Palmetto Hall Plantation – Hills Course – 4 star
After Golf Suggestions: Do some Sea Kayaking with Outside Hilton Head…Noooo, they are actual inside Hilton Head but their name is Outside.  "Okay. Who's on first?…" 843-686-6996.  Nice folks.  You can catch an afternoon trip into the salt marshes…Watch for Dolphins and Gators…Fun!
Dinner Suggestions: The Mellow Mushroom Tonight. Subs and beer.  Good local hangout.  (843) 686-2474.  And only about 5 minute ride from the hotel.
Day #5
Course: Ship Yard Golf Club – At least a 4 star. South end of Island and only about 15 minute ride
After Golf Suggestion: I'd go to the hotel pool today…  Beautiful.  Hit the hot tub and inhale a few Margaritas.  Think about what's for dinner.
Dinner Suggestions:  IL Carpaccio, Good northern Italian style cuisine. But they also have the best thin crispy crust stone oven wood fired pizza in town- (843) 342-9949.  About 6 minute ride.
Day #6
Course: Oyster: Reef Golf Club- 4 star. – About a 15 to 20 min ride.
After Golf Suggestions: Go do some fishing with "OFF THE HOOK CHARTERS". 843 298 4376. web- offthehookcharters.com.
Dinner Suggestions: The Lodge Beer & Growler Bar- 843-842-8996…36 different beers on tap.  Check out the beer advocate for what's on tap. http://beeradvocate.com/forum/read/2773062.  Drink out of plastic cups, smoke a cigar and play a little pool…just the basics. There are flat screens everywhere as well… Could be a fun evening.  Or switch this to a Tuesday night for their $3 Martinis…This could be an even better night.
Day #7
Course: Palmetto Hall Plantation – Cupp Course – 4 star – About a 15 to 20 min ride.  These are all beautiful courses.
After Golf Suggestion: I think this is going to be a laid back afternoon and off to
the pool, hot tub and cocktails on the deck.
Dinner Suggestion: I think this would be a Comedy Club night. Top comedians making you laugh…what could be better for the last night in town.  Check their schedule on the web to find out who's performing.  Entry cost only 12 bucks.  The food is not special.  Subs and sandwiches and cocktails. They might get you to laugh about your game as well. 843) 681-7757…hiltonheadcomedyclub.com
Details below on the hotel suggestion and each course noted above:
Westin Hilton Head,
2 Grasslawn Avenue, Hilton Head Island, SC 29928 – 843-681-4000.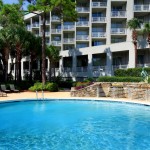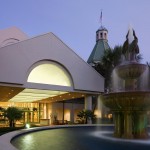 This is 4 Diamond resort and is on a stretch of pristine white sandy beach just a short walk from the front door. They have 412 spacious rooms – standard, deluxe
and suites available. 3 pools…inside, outside and a round one and a nice big hot tub.  A full service Spa, work out area, bars and restaurants too…Who can ask for more? They are surrounded by three spectacular courses and several others that I'm going to suggest that are pretty near by.
Course Details:
Planters Row at Port Royal – 4 star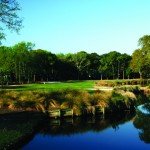 10 Club House Drive, Hilton Head, SC, 29928…Call 843-689-4653
Distance from resort: 5 min shuttle ride away
Designed by: Willard C. Byrd
Course stats back tees: Holes 18, Par 72, Yds 6,625, USGA 72.1, Slope 139
Rates range: High season:  $97    Low season: $76
Course Brief: It has played host to the Hilton Head Seniors International Golf Tournament. This course has water on 10 of the 18 holes.  The narrow, tree-lined fairways lead up to the course's small undulating greens.  Great challenge for golfers of all skill levels.
Barony at Port Royal – 4 start
10 Club House Drive, Hilton Head, SC, 29928…Call 843-689-4653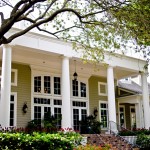 Distance from resort: 5 mins a shuttle ride away
Designed by: George Cobb
Course stats back tees: Holes 18, Par 72, Yds 6,543, USGA 71.9, Slope 137
Rates range: High season:  $97    Low season: $76
Course Brief: Cobb designed this in the early 1960's and was one of the first courses on the Island. From the tee box, many of the holes appear to be relatively open, but as you approach the Bermuda greens, the real challenge becomes clear.  The greens are generous but protected by thick rough and unforgiving bunkers, entitling the golfer to have good touch with mid to short-range iron shots. This is a course where accuracy, not length, is paramount.
Robbers Row – Port Royal –  4.5 star
10 Club House Drive, Hilton Head, SC, 29928…Call 843-689-4653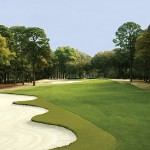 Distance from resort: 5 mins a shuttle ride away
Re-designed by: Pete Dye – Original design: Byrd and Cobb
Course stats back tees: Holes 18, Par 72, Yds 6,657, USGA 73.3, Slope 134
Rates range: High season:  $97    Low season: $76
Course Brief: Designed in 1967 by architects George W. Cobb and Willard C. Byrd, and was up dated and redesigned in 1994 by world famous architect Pete Dye.  The course is located on the scenic marsh side of the Port Royal Plantation and cuts through beautiful strands of magnolia and live oaks.  This course sets atop former Civil War grounds and features historical markers throughout the course, describing events that took place on the Island. Although tee-shots have generous fairways to land in, approach shots require accuracy to the well-protected greens.
Oyster Reef Golf Club- 4 star
155 High Bluff Road, Hilton Head Island, SC 29926…Call (843) 681-7717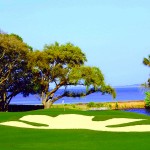 Distance from resort: 15 Min ride
Designed by: Rees Jones
Course stats back tees: Holes 18, Par 72, Yds 7,018, USGA 74.7, Slope 137
Rates range: High season:  $107    Low season: $86
Course Brief: Opened in 1982 and was immediately recognized as one of the Top 25 new courses in America. The spectacular layout winds the golfer around lagoons, lush vegetation, and scenic views of the inlet to Port Royal Sounds, including the signature Par 3, # 6, one of the most recognized and photographed golf holes on Hilton Head Island, looking out over Port Royal Sound.
Ship Yard Golf Club – 4 star
45 Shipyard Drive, Hilton Head Island , SC 29928 (843) 686-8802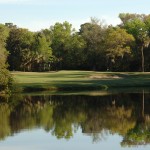 Distance from resort: South end of Island about 15 min ride
Designed by: Pete Dye
Course stats back tees: Holes 27 – Brigantine/Clipper/Galleon
– Brigantine/Clipper – Holes 18, Par 72, Yds 6,855, USGA 73.3, Slope 138
– Brigantine/Galleon – Holes 18, Par 72, Yds 6,735, USGA 72.7, Slope 133
– Clipper/Galleon – Holes 18, Par 72, Yds 6,878, USGA 73.2, Slope 133
Course Brief: Water and lots of gators.  This course offers three nine-hole courses, which can be played in three eighteen-hole combinations as noted. Each course has its own merits and difficulties, with 25 water hazards coming into play throughout the majority of the holes.
Palmetto Hall Plantation – Hills Course – 4.5 star
108 Fort Howell Drive, Hilton Head Island, SC, 29926. call (843) 342-2582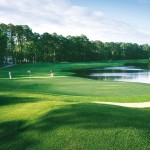 Distance from resort: 5 minutes
Designed by: Author Hills
Course stats back tees: Holes 18, Par 72, Yds 6,618, USGA 73.7, Slope 136
Course Brief: Opened in 1991, the course was instantly named a classic by Golf
Digest Magazine, which rated it among America's Top 10 New Courses. It is heavily wooded with towering pines and moss-draped oaks, the lush fairways roll past clear lakes. Protected greens, edged with bunkers, provide golfers with challenges, while the signature par-4 18th hole offers a daunting finish to a spectacular game.
Palmetto Hall Plantation –  Cupp Course
108 Fort Howell Drive, Hilton Head Island, SC, 29926. call (843) 342-2582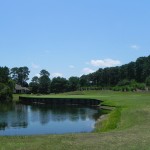 Distance from resort: 5 minute drive
Designed by: Robert Cupp
Course stats back tees: Holes 18, Par 72, Yds 7,079, USGA 72.2, Slope 149
Course Brief: Unique. This course is a beautifully innovative but very playable. Cupp created a course that is visually challenging as well as challenging to play. A design that tests the better player, but accommodates higher handicappers as well. It is impeccably maintained with year-round conditioning.
TOP TEN+ THINGS TO DO BESIDES GOLF: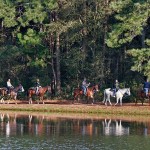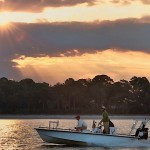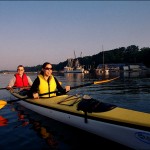 – BAR-MUDA TRIANGLE – NIGHT LIFE HAPPENS HERE. Don't miss The Lodge Martini and Cigar Bar or One Hot Mama's.
–  Charter Fishing – With "OFF THE HOOK CHARTERS"…Not deep sea but beautiful inshore waters with light tackle. Anyone can deep sea…Brian Vaughn has over 20 years experience. Explore the shallow waters in flat boats year round…Fish for Cobia, Tarpon, Sharks,  Spanish Mackeral, Speckled Trout and many…depends on the season. 843 298 4376. web- offthehookcharters.com.
–  COLIGNY BEACH – Most popular beach.  It's beautiful.
–  Comedy Club – Top comedians make you laugh, laugh, laugh.
– Harbor Town – Explore the island's rich history and get the inside story on the creation of the lighthouse there. See Civil War era photographs and artifacts as well as the ancient artifacts dating back 3000 to 5000 BC.  Yikes… that's about the time of the Ice age.
– Harbour Fest – April through September, Shelter Cove features live entertainment seven nights a week, plus food, arts and crafts, fireworks and lots of activity.
– Horseback Riding –  Lawton Stables –  24 acres in Sea Pines Plantation. You   don't need to be an expert rider to enjoy these guided tours through the spectacular Sea Pines Forest Preserve. 843-671-2586.
– HOT GOLF BALL MASSAGE – Don't forget to try this at the Heavenly Spa at the Westin.
– Pickney Island nature Preserve… Beautiful with wildlife everywhere include waterfowl, shorebirds, wading birds, raptors, neo-tropical (what's that?) migrants, white-tailed deer and American alligators, with large concentrations of white ibis, herons, and egrets.
– Jazz Corner – As jazz musician Barney Kessel once said, "The beat is irresistible. The melodies are beautiful. The harmonies are intricate and intriguing, and the improvisations are phenomenal feats of spontaneous composition." You'll find it all here.
– SEA KAYAKING – WITH THE DOLPHINS – Check with "Outside Hilton Head"…The inside scoop is that they are the best in town.
Enjoy Hilton Head and let me know what you think.
All the Best,
Your Golf Concierge